Armadillos, the New Mammal in Town
By Bill Steinmetz
February 23, 2023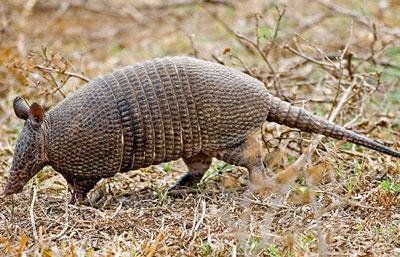 Armadillos have recently expanded their range into central North Carolina with sightings occurring in Wake, Durham, and Orange counties. Although recognized as the Texas State (small mammal) animal, this species originated in South America and crossed from Mexico into Texas about 150 years ago. There are several species of armadillos, but only the nine-banded variety has expanded into the United States.
Armadillos are known for their armor, which develops a few weeks after birth and provides protection from predators including coyotes, racoons, and bobcats. This armor can be strong enough to cause small caliber bullets to ricochet and strike unintended targets, including humans. Diet consists of insects, berries, eggs, and carrion. Most foraging occurs after dark. Daylight observations are often in the form of roadkill along highway shoulders. This is because armadillos jump up to four feet high when startled. This sudden vertical motion can result in a rapid demise when initiated underneath moving vehicles.
Armadillo population is expected to continue increasing with time. Increasing population means more interactions with humans and more reports of lawn and garden damage from armadillo foraging. There are no known effective repellants. However, problem armadillos can be trapped during the regulated trapping season (November through February), removed via a depredation permit, and hunted year-round. For additional info, visit this North Carolina Wildlife Resources Commission Species Profile: Armadillo .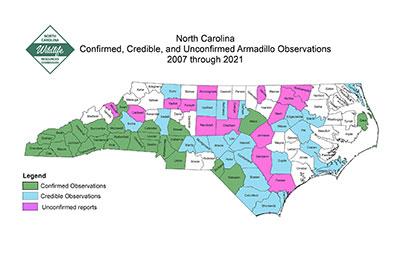 The Gee Whiz:
The nine-banded armadillo does not roll up like a bowling ball for defensive purposes. Only the three-banded armadillos can roll into a ball. This ability is known as volvation. The word volvation is derived from the Latin word volvere, or to roll, like Volvo.
Research Note:
Armadillos are the primary research animal for leprosy (M. leprae) studies, since this bacterium cannot grow in artificial media. In addition, armadillos are the only animal other than humans that can carry this bacterium. See this article for additional details.