How I Found the Environment!
Have you read the story about how Sharon Finds the Environment? You can be like Sharon and find the environment, too!
Make your own story of how you find the environment. Look around you and find out all about your environment. Environment is everything around you. What do you see? What do you hear? What do you smell?
Now make up your own story book. You can write down all the things in your environment. Draw what you see or cut out pictures from newspapers and magazines. Remember to ask your parents before you cut out anything, please.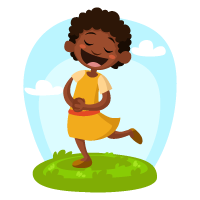 You can help the environment, too. Reuse paper for your story. Look at any paper you already have—is it blank on the back? Turn it over and use the back for your story.
Add things you find around you. Paste in a dry leaf or a feather you find.
Put it all together. Now you have your own story!
The last step? Share your story with your family and friends!