Be Prepared
Be Prepared
What if YOU ever need to evacuate an area?
Here's a helpful packing list and other useful suggestions developed from FEMA's Emergency Preparedness Checklist and other resources. And kids, remember that YOU can help your families collect these items so your family will be ready to roll in an emergency!
WEATHER EMERGENCY KIT AND EMERGENCY PLANNING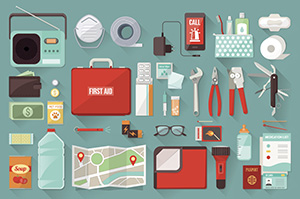 at least a three-day supply of water, allowing 1 gallon per person per day; store water in sealed, unbreakable containers, and identify the storage date so that emergency supplies can be renewed every six months;
canned and no-cook food that doesn't spoil (such as crackers, peanut butter, dry cereal, canned fruit and vegetables;
non-electric can opener;
flashlight and plenty of extra batteries;
first-aid kit (don't forget basic over the counter and prescription medicine);
portable radio or NOAA weather radio;
cell phone and AC/DC chargers;
change of clothing, rain gear and comfortable, sturdy shoes;
pillows, blankets, and/or sleeping bags;
extra pair of glasses;
extra set of car and house keys;
credit or ATM card and cash;
any special needs for babies, disabled, and elderly family members;
beloved or comfort items for children—toys, favorite stuffed animal, etc.;
pet needs (food, water, proper ID tags, leashes and collars, and crates as needed to transport pets to safety);
car supplies, including plenty of gas, booster cables, fire extinguisher, maps, shovel, tire repair kit;
list of family physicians and medications you take;
list of important family information and a waterproof container with vital documents such as birth certificates, social security numbers, etc.;
style and serial number of medical devices such as pacemakers;
phone numbers and contact information for a friend or relative for family members to call if separated during a disaster (remember: it is often easier to call out-of-state than within the affected area);
two emergency meeting places:

a place to gather near your home in case of a fire;
a place to gather outside your neighborhood in case you cannot return home after a disaster.
Resources to Print and Use for Family Planning
NOAA Family Disaster Plan and Disaster Supply Kit List
(remember to add some of the other items shown above to the NOAA list!)
---
What Your Parents Can Do NOW!
(Making an escape plan long before an emergency happens!)
Have a family discussion about...
the dangers of fire, severe weather, earthquakes and other emergencies, and how each member of the family should respond to each;
the safe spots in your home for each type of disaster;
power outages (remember that candles, oil lamps, generators, grills, etc., can be dangerous and should only be used with ADULT supervision; and generators and grills should never be operated indoors);
what to do for personal injuries (including the location of emergency numbers and first aid kits);
two escape routes from each room of the house;
which family or friends located out of your area are to be used for a central point of contact and coordination;
what to do to safeguard your pets.
Other ideas for your parents or other adults in your home:
keep family records in a water and fire-proof container;
learn how to turn off the water, gas and electricity at main switches, when necessary;
post emergency telephone numbers near telephones and teach children how and when to call 911, police and fire;
develop an evacuation plan with a place to meet or leave messages; i.e., teach children how and when to evacuate the house and two emergency meeting places:
a place to gather near your home in case of a fire;
a place to gather outside your neighborhood in case you cannot return home after a disaster.
teach everyone in the family your designated contact's phone numbers;
provide notifications to school or child-care personnel about how to reach your designated contact;
instruct household members to turn on the radio for emergency information;
ensure vehicles are fueled and in good repair
learn CPR (contact your local American Red Cross about classes);
search your home and eliminate hazards such as the following (but remember...all of these jobs are for the ADULTS ONLY - "hazards" are DANGEROUS!)

repair defective electrical wiring;
trim trees;
secure water heater by strapping it to a wall.
Other Resources... for Kids
National Weather Service Playtime for Kids, Fun activities and information for how weather affects your environment.
Ready Kids, by the US Department of Homeland Security; a disaster preparedness site for kids with games, coloring books, and other fun activities.