A Canada Goose Story
By Bill Willis
May, 2016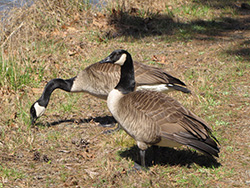 The Canada Goose (Branta canadensis), with its black head and neck, and characteristic white "chinstrap," is a magnificent bird and a longtime mainstay of local grounds. Encountering a gaggle of geese and their goslings serves as a relaxing backdrop to the already park-like setting of the NIEHS campus.
Coexisting with these feathered friends, however, is not without its challenges.
The Research Triangle region of North Carolina hosts one of the largest permanent (non-migratory) populations of Canada Geese in the nation — the NIEHS campus in particular as it's an ideal habitat for the species (see what other types of birds you might find on the EPA/NIEHS RTP Campus. This has led to an increased population of both migratory and permanent populations, in addition to rising employee concerns over excessive walkway droppings, aggressive bird behavior, and the not-so-occasional traffic encounter.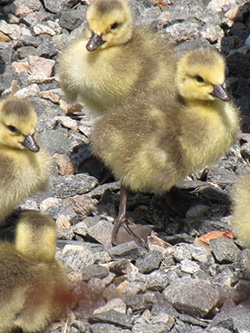 Various approaches have been used to control the onsite goose population in an acceptable and effective manner. In the past, these have included strategic landscape plantings and permitted nest management techniques, but such measures are no longer used, as geese numbers have decreased.
Beyond the NIEHS campus, Canada Geese are protected under the Migratory Bird Treaty Act. This makes interfering with birds and nesting activities subject to restrictions outside of hunting season.
Looking Forward
The campus Wildlife and Industry Together (WAIT) program will soon begin monitoring area geese to better understand the size of their breeding population, as well as the effect migratory birds are having on total bird counts. From last fall to this spring, geese numbers fluctuated from a low of 6 to a high of 120 as migrating birds stopped to feed on their flights elsewhere.
WAIT is also coordinating with the Comparative Medicine Branch to monitor North Carolina Department of Agriculture and U.S. Center for Disease Control communications on avian flu in the Tar Heel state.
(Bill Willis is a biologist with the NIEHS Reproductive and Developmental Biology Laboratory, and a regular contributor to the Grapevine.)