Coyotes in Research Triangle Park, NC
A Call of the Wild Echo Heard
August 19, 2015
By the Site Ecology Team (SET) & Wildlife and Industry Together (WAIT)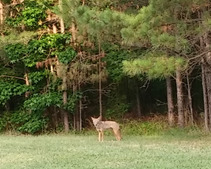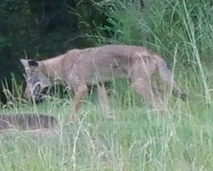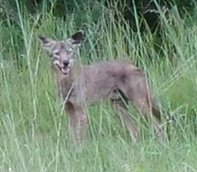 Reports of coyotes on campus in early spring 2015, provided the opportunity to share the story of the Coywolf with employees. The SET & WAIT with input from the Security Force and fellow employees have been for some time, reporting animal sighting to the Veterinarians and SET members. Employees have also been recording their observations with pictures that support information that is then shared. Recently there has been an increase in the sightings of coyotes on campus. This is really not surprising since coyotes currently occupy all 100 counties in North Carolina. It was only a matter of time before they appeared here. Employees have related their stories of seeing coyotes in their neighborhoods. Dusk and dawn are the most prevalent times to see them but daylight sightings are not that unusual. These are upper tier predators and opportunist, who will eat various small mammals (mice, rabbits, woodchucks, cats, dogs), birds, insects, and human & pet food.
Coyotes are cunning, wily, and highly adaptable, so they are here to stay. We will be coexisting, so there must be some rules in place. They fill a niche that was vacated in large part by man's actions against the wolf.
The nature of coyotes is to be secretive and out of sight, not seeking the presence of humans. Therefore, we could do well to give them room and don't encourage them to come close. The N.C. Wildlife Resources Commission posters/flyers "Coexisting with Coyotes (291KB)" and "Preventing Conflicts with Coyotes" are very informative. The flyer is provided for those Coyotes amongst us. The references sighted below may help follow local community sightings.
Coyote Articles and References