Let's Go Down to the Crawdad Hole, Baby
By Bill Willis
July 12, 2017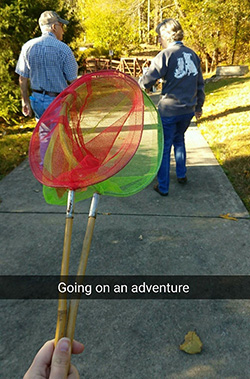 So begins the song "Crawdad Hole" performed by Woody Guthrie, in Muleskinner Blues. This is an old country tune about the tradition of going crawdad hunting for food and bait.
The southeast United States claims 300 species of crawfish, but the better-known ones are the blacks and the reds that are prepared for food. Louisiana supplies all the crawfish fished commercially and consumed in the States. A small portion of the crawfish are used for fishing bait, and some find homes as kid's pets.
We may not be Louisiana, but we also have crawdads down by Discovery Lake. At first glance their dwellings may appear to be turtle nests, but upon closer inspection the hole could extend several feet down to the water table. Only one crawdad lives in each tunnel. Ten burrowing tenants have claimed the area at nature trail post #4, near bridge #3.
Some burrowing crawdads only come out to mate and feed, and then only at night, but occasionally they can be seen after a heavy rain, moving through the vegetation. They feed on leaves, insects, worms, and any microbes that might be present. They, in turn, provide food for birds, mammals, reptiles, fish and, yes, humans.
Our native crawdads have reached Europe and China where they have achieved invasive species status, by attacking and ravaging the rice crops there.