Who's Been Sleeping in My Bed? Some Fly-By-Nighter?
By Bill Willis
March 21, 2017
Checking bird boxes can be exciting at times, especially when the unexpected occurs. Last year and again this spring, when we knocked on the side of several bluebird and nuthatch bird houses to announce ourselves for spring cleaning, a squirrel came to the door. The southern flying squirrel, Glaucomys volans, had taken up residency in six of our boxes.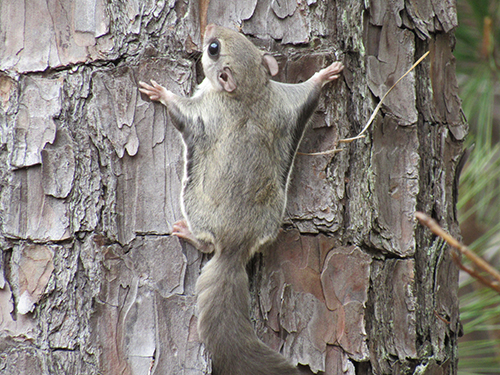 This big-eyed, small-framed animal is a nocturnal member on our campus who is seldom seen or heard. The flying squirrel gets its name from the loose skin that stretches between its ankles and allows it to glide from one tree to another.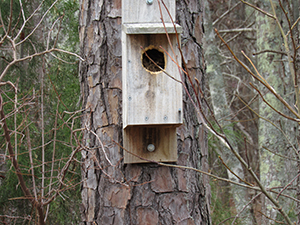 Like the common grey squirrel, these squirrels are very much at home in trees all across North Carolina. They have been observed to roost in groups of up to 50 in winter if the den is large enough to accommodate them. Usually they stick to outside shelters such as natural tree crevices or bird/squirrel boxes, but occasionally they'll look for shelter in people's homes. After building a nest of cedar bark, the mother will line the nest cavity with lichens, moss, and sometimes feathers.
Litters of one to six young squirrels are born in January or February about the same time that the bluebirds are seeking nesting sites. The young will stay with their mother until the next litter is born. If the mother and nest are disturbed, she will relocate her entire family to another location.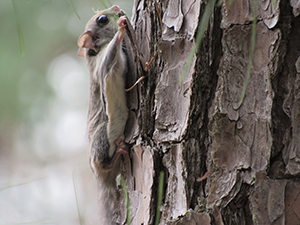 Flying squirrels are omnivorous and will horde seeds and acorns. They also eat fungi, berries, fruits, and tender plant material. As with their cousin, the grey squirrel, they will also feed on eggs, young birds, and invertebrates.
As dusk falls across the lake this spring, look for the squirrels gliding between trees.
Nature videographer Will Michael records the activity of northern flying squirrels. Commonly found in the northeastern U.S., flying squirrels are seldom seen by humans. Their small size and nocturnal lifestyle make them extremely hard to see in the wild.