Discovery Lake Becomes the Canvas for a Spring Watercolor Scene
By Bill Willis
April 18, 2017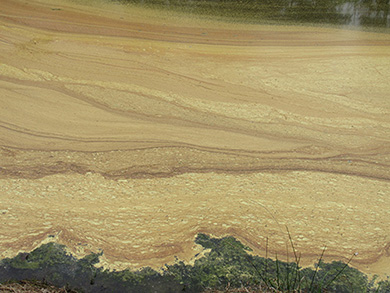 Spring is a time of transformation, bright colors, and new life, and nowhere is that truer than on campus. Often beautiful scenes are fleeting and not observed. During three weeks in March, a colorful mosaic watercolor painting came together on Discovery Lake. It took weeks of mixing the right earth tones to achieve both texture and color complementation. None of the components were toxic to wildlife or humans, and all aspects of the project were done pro bono public.
Employees walking the lake trail saw this masterpiece come together. Since the design actually floats on the water surface, any rain or birds could fowl up the process. Fortunately, rain didn't slow the progression. Changing air temperatures and wind direction interacted to display the work of art.
Although the actual work covered a small portion of the lake, it still expressed the forces of Nature. Seldom does such a display achieve this level of expression. This year's contribution was nothing to sneeze at.
It goes to show that pine pollen can be beautiful.