What's Not to Lichen? Little Known, Little Understood?
By Bill Willis
April 25, 2017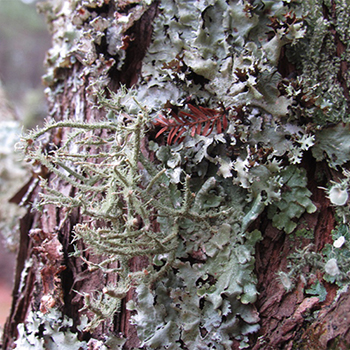 Some species have no trouble working together on a common goal to achieve what neither one could do alone to make their environment a better place. Lichens are such an association that can be found all over, including right on campus, with two separate groups coming together to form a viable organism that otherwise would not exist. Although primitive, minute, and slow growing, lichens play important roles as shapers of what evolves within a given ecological niche.
What are lichens?
Lichens are not vascular plants or even a single organism, but are a partnership between a fungus and one or more algaeor cyanobacteria. The main body structure of the lichen consists of fungal filaments that surround the cells of its photosynthesizing companion, the algae. Besides providing a physical way to anchor the lichen to a surface, the fungus provides shelter and moisture for the algae. In exchange, the fungi is nourished by carbohydrates produced by the algae converting carbon dioxide and nitrogen from the air into organic compounds.
Where are lichens found?
They can be found in most places on earth from the tundra to hot springs. They will colonize bare rock, cleared soil, animal bones, metal, or living bark.
How do lichens differ from plants?
They do not have roots, stems or leaves. The photosynthetic machinery is encased within the fungal structure. Lichens are not parasitic so no nutrient uptake can come from their host.
Why are lichens important?
The small but delicious lichens are a food source for artic grazing animals. They are also pioneer organisms in the breakdown of inorganic matter. They are sensitive to pollution as well as acidic conditions, making them strong environmental monitors. They are known to produce more than 500 biochemical compounds.