What's Happening Outside Now?
By Bill Willis
October 27, 2016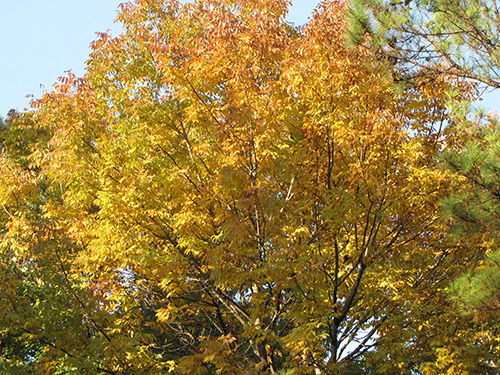 Transition from summer to winter is occurring. What does this mean around campus?
The tree leaves are changing to their seasonal colors and littering the ground.
The ash and willows trees are one of the first to shed their yellow leaves.
The annual deer mating period has begun and will run through November; the NIEHS buck has returned to campus.
The snakes are searching for a warm place to den up as temperatures drop.
The aquatic turtles are seeking a safe resting spot under the water.
The purple martins are in South America sipping martinis now. Their houses are being lowered and prepped for next year.
The bluebird boxes are being cleaned for birds that might spend the winter locally.
The nuthatches have been heard on campus. These birds should remain in the area for the pinecones to mature. Their nest boxes should be ready to occupy by March.
Wildflower beds have been mowed twice to discourage ragweed and Johnson grass. Plowing will follow when killing frosts begin.
The riparian zones, or the area between the road and the lake, have been mowed to remove woody plants and to make room for the new section of the walking trail.
Invasive plants like Johnson grass, Japanese Lespedeza, and Japanese stilt grass were mechanically removed as part of the NIEHS Invasive Species Program.
A monarch milkweed garden is in the planning stage for next year, which should increase monarch sightings. It will be part of the Butterfly Highway program.
The Memorial Garden plants have had their dead flowers removed, groomed and the area prepared for winter. Mulching will follow.
The bee block tunnels are being used by both mason and leafcutter bees.
The Canada geese are visiting campus on their migration south.