NIEHS to Conduct Offensive to Protect its Ash – Emerald Ash Borer
By the Site Ecology Team (SET)
August 9, 2015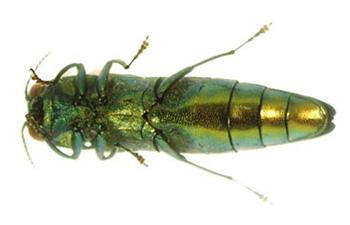 The NIEHS Campus will soon become a Piedmont Theater of Operations (TO) as the Institute prepares for the invasion of the Emerald Ash Borer (EAB). Planning is underway to meet this challenge head-on. Government and News Agencies place the threat on our doorstep. All ash trees, regardless of species (white, green, black, pumpkin) are at risk of total annihilation if action isn't taken. Trees in the north central states have been under attack since 2002 and have suffered tremendous losses.
The NIEHS has, because of the scope and cost of this campaign, decided to protect twenty (20) of the campus ash trees that are healthy and have high landscape visibility or appear capable of reseeding portions of the campus forest after the infestation. The blue flagging seen on some trees designates ash (white & green) that are being considered for treatment. Treatment should start this month.
Now is the time to check your own trees, especially accent trees in your landscape. There are treatments that will spare trees, but applications need to be started before infestation, and then continued for many years.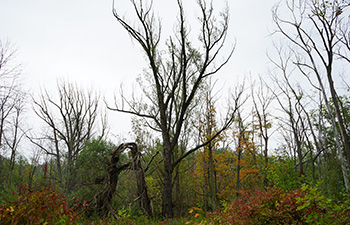 We have prepared a flyer " Is My Tree Infested by the Emerald Ash Borer?" that explains how to identify ash trees, determine if the ash borer is present, and respond to an infestation.
The following releases from the North Carolina Department of Agriculture and Consumer Services help explain the EAB infestation, the problem facing the ash populations, and measures that can be taken to help curb its spread.
Sources