Emerald Ash Borer Arrives on the NIEHS Campus
By Bill Steinmetz
September 28, 2020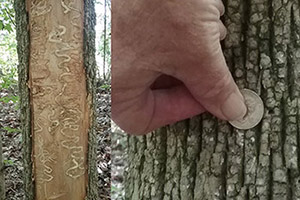 The North Carolina Forest Service has confirmed that ash trees on the NIEHS Campus are becoming infested with Emerald Ash Borer (EAB). Several ash trees are already dead, and an unknown number are infested. Infestation evidence includes canopy decline, D-shaped exit holes, and serpentine larval galleries under the bark. All of our untreated campus ash trees will be dead in about two or three years. About five percent of our forested areas are ash, which equates to an estimated loss of over 500 trees across campus.
Efforts to protect a select group of 21 campus ash trees are continuing with root flare injections of a preventative treatment occurring every two years. EPA has joined NIEHS by implementing similar treatment effort for around 30 of their ash trees. Since the fringe tree is in the same family (Oleaceae) with ash trees, it is also susceptible to the infestation. Therefore, the four fringe trees in the Memorial Gardens have been added to the treatment program.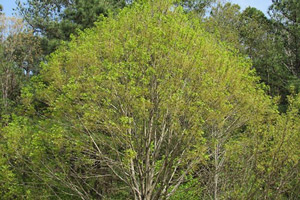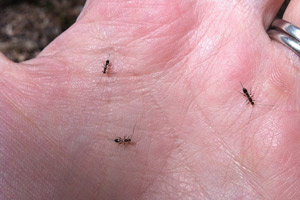 The NIEHS Campus is an approved USDA parasitoid wasp release site for biological control of the emerald ash borer. However, this effort is on hold as there are currently not enough wasps available for release at all approved sites.
This program involves release of small wasps into an infested area to find and deposit eggs onto the ash borer larvae. The wasp larvae are parasitic and will devour the ash borer larvae, which is a proven and safe method of Emerald Ash Borer population control.
To learn how to identify ash trees and infestation symptoms, visit: Is My Tree Infested by the Emerald Ash Borer? (2MB)
For detailed information from the North Carolina Forest Service, visit: Emerald Ash Borer Frequently Asked Questions
The guidance document for the USDA wasp program can be found here: Emerald Ash Borer Biological Control Release and Recovery Guidelines